Real estate players need to find their way to embrace the potential of technology fully. Although the industry is firmly rooted in the offline, traditional business reality, it has to transform into a digital business model. From housing estates, through shopping malls, up to business premises – real estate investors are facing a significant challenge. And that is – how to bring software into play to achieve revenue growth? This blog post is an opening of a three-article series on Real Estate Technology.
At least for the last couple of years, authorities staying close to the real estate world have been alarming that this lucrative sector is not catching up with the latest technology trends. Despite other industries have gotten their hands on web and mobile applications, real estate seem to be left behind.
The digital train is leaving the station
Billions of dollars, euros, or pounds pour in and out when it comes to properties. However, the mindset of real estate decision-makers has been resistant to the so-called technological disruption, shaking the ground for the other business sectors.
Although platforms like Airbnb, Zillow, or WeWork have made the most of merging real estate market with the idea of sharing economy and digital nomads phenomenon, there's still an immense need for the industry to capitalize on application software.
What we can find in an in-depth piece published by Wharton School of the University of Pennsylvania is:
"For those in the technology world with some background in real estate, the opportunity may seem obvious: Participants in the real estate industry can use technology to make faster and better decisions. But as noted, the real estate sector is one of the few remaining sectors of our economy that has created immense wealth with little or no technology know-how and interest."
That's about the US, but the situation in other countries seem to follow this pattern. Here's Canada:
"The real estate industry has traditionally lagged behind other sectors, largely due to the nature of our buildings and infrastructure. Properties that are held by individuals, investors or owners remain unchanged for decades, with leases that extend from 5 to 20 years. As a result, with insufficient capital funds for improvements, some real estate market participants aren't prepared for, and have been slow to react to technological transformation."
Luckily, it's still not too late to adapt.
PropTech is on the rise
Other industries have forged their terminology combining its names with the word "tech." As a result, you can hear about MedTech for medicine and healthcare software products or services, EdTech for education, and so on.
The idea of PropTech is about the applications designed to unlock new possibilities to use, sale, and lease properties.
The ING report on "Technology in the real estate sector" highlights a poor R&D investment in Europe. On the other hand, it also shows how PropTech companies worldwide have been injected financially over the last few years.
Let's take a look at these graphics: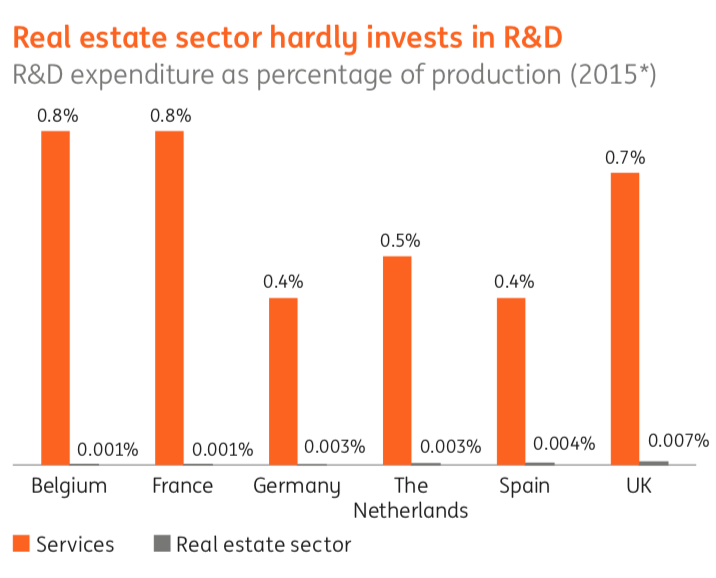 So, what's hiding behind property technology? According to the ING publication, there are several main categories of applications that form the PropTech landscape:
Rental platforms and "Sales as a Service" – two types of services fall into this category. The first is where tenants and landlords meet to rent houses and apartments. The second defines platforms like WeWork, companies that are renting office buildings, and subleasing fractions of working spaces for shorter periods.
Sales platforms. For the industry that stands on the pillar-idea of significant return on investment, creating digital real estate marketplaces is the obvious direction. Using big data, data analytics, and AI will power up these applications.
Digital administration. It's about taking care of administrative management when it comes to property sales and rental activities. It's crossing the border between old-school printed documents and running it all with the help of software.
Smart buildings. Well, digital transformation is not only attached to buying, selling, and renting. Technology, backed up with the Internet of Things, is implemented inside the property premises. It can decrease energy consumption, or transform buildings into healthier, and more space-efficient places.
Customer journey. The vision of revamping the property buying or renting process is about employing web and mobile apps and VR. Imagine viewing apartments with the help of Virtual Reality instead of wasting time and money on driving around the city from one housing estate to another. Imagine signing digital contracts and property management using a dedicated application or a web operating system. There's so much more to come.
Okay, digital transformation is pacing up, and the industry trends form an attractive benchmark. However, to leave other real estate investors behind, you need to answer one crucial question:
How to increase my real estate business?
As we mentioned at the beginning of this article, we're focusing on creating significant growth for the residential real estate reality. There's a way to build a relationship with residents, by embracing digital technology, customer experience, and latest lifestyle trends.
The deal is that professionals, singles, couples, and those married with kids are increasingly busy and addicted to applications as their everyday tools. Mobile consumers, as they are, divide their lives into two spheres: work and home.
Why does it matter?
Because the entire symphony of shops, bars, and restaurants, services, preschools (and so on) is orchestrated to play around either business centers where corporations and startups are piling up, or – around housing and apartment estates.
Job or home – this dualism is super-meaningful. We all want to do the shopping, visit a hairdresser, a gym, or go for a pizza, most conveniently – somewhere near work, or somewhere near our nest.
The same goes for:
Receiving packages
With e-commerce being on a roll, buying goods on online shops and marketplaces has become a cultural obviousness. Hence, the popularity of parcel lockers located all around our cities.
However, many professionals still tend to set the office address (they stay from 9 to 5) as the delivery address. It comes in handy for them but has become a nuisance for front-desk and administration assistants, who are being disturbed plenty of times a day to receive a parcel from a courier. Therefore, it comes as no surprise that more and more office assistants refuse to do it. Some of them even decide to set a fee for people who order their private packages to their work.
So, what's the alternative for outdoor parcel lockers and annoying colleagues at work?
This is where you come in with your winning technology solution as a housing estate owner:
The application that links the residents' needs with the suppliers
Offering everything that people want, fast and conveniently, unlocks an excellent opportunity for you as an investor.
Time-saving is the crucial factor here and a trigger for creating a new business model that matches you (as an apartment building owner), residents, and shopping and service providers.
Here's how:
Imagine this life scenario – a couple of utterly busy upper-mid-class professionals in their thirties. Every week they go around the clock to deliver their results at work. Still, they also like to socialize with friends, work out at a gym, do some swimming, jogging, and yoga. And at the end of the week, they embrace their intimate get-together time.
Buying groceries, getting parcels from outdoor lockers, being stuck in traffic to get their clothes from a tailor or a dry cleaner? They regard all those necessities as mundane time-wasters.
How about cooking? They both like it, but during a week they hardly have any time for it. Healthy box diet is doing a job.
One private locker to cover it all
Now, to meet their expectations and standards, let's picture creating a multipurpose locker inside the building they live. Each apartment or even each particular resident can get access to a private locker in exchange for a subscription fee paid to you.
Our busy couple could install a dedicated mobile app to manage all their needs to be covered and the goods delivered to their locker.
Example?
Buying groceries from your partner-chain-store, who is connected to the application. Ordering clothes, electronic devices, pharmacies, cosmetics from e-commerce shops, also linked to the app. Receiving sport diet boxes, ironed shirts, repaired shoes, you name it! All within one application merged with a locker located inside the building.
Digital business model to skyrocket your revenue
Making the most of software technology and switching to an online business model can go beyond the trends we mentioned earlier on (most popular PropTech applications).
It's more about creating a digital ecosystem that fulfills the needs of three types of species:
Residents. Once they receive a product that connects their basic and more sophisticated requirements, they win back today's most demanded currency – TIME. Plus – they're getting more emotionally attached to the place they live and to your brand as a property investor.
Partners aka Shopping and service providers. Creating such an application would mean building strategic partnerships with a grocery's stores (ones that offer home deliveries), e-commerce shops and marketplaces, local service providers, and transport & logistics companies. Getting them on board would be a milestone for the entire project. Without it, the whole thing would fall flat.
You – the real estate owner. It would mean investing in tangible objects inside your building and developing a mobile application aimed to connect all the dots and to drive substantial, additional revenue.
How would it work in practice?
A resident, let's call him Mark, downloads the app on his mobile. His credit card is linked to the application, and he's charged for renting his private locker – that money goes to your pocket.
Next, Mark taps on a grocery delivery subscription and pays monthly for a basket of essential goods. You get your commission rate signed with a grocery store and get a passive income from the transaction between Mark and a store.
The same dynamics would apply to any other commerce or e-commerce provider – you would get your percent for every single deal made by a resident and a provider.
Now, add all the subscription fees from all the lockers in each building. Multiply each commission fee by the numbers of lockers. Add them all. You would be facing additional millions annually flowing to your account.
That's your digital business model – that's your growth!
How to achieve this real estate digital disruption?
Let's get back to the Wharton School publication:
"Envision a digital platform and virtual network (like a Facebook or LinkedIn for real estate participants) where you partner and co-create with tenants, suppliers and employees in a new business model — allowing them to participate and share in the value that your network brings. Start small, by either developing or buying a digital platform that connects what you make with what you service and sell, and then co-create. A technology platform is critical to digital success."
To make that happen, you need to partner up with a software house that can design and develop your product from scratch.
The project workflow would like this:
Preparation – Product Design Sprint. That's a set of workshops aimed at transforming an idea to a prototype. There are five phases here: understanding, diverging, converging, prototyping, and users testing.
MVP – Minimum Viable Product. This stage would involve installing lockers and launching the first version of the application, with several offerings linked. Once started, there's time to analyze the residents' and partners' feedback, and prepare for upcoming product iterations.
Upgrades. It would be stabilizing the product, as well as expanding its functionalities, and finally – increasing the number of e-commerce, local services, and logistics suppliers.
There would be much more to add to the application in further iterations, but for now, it's crucial to focus on a game-changing idea and to make it real!
Are you ready to put this into action?
Quoting again after the Deloitte report:
"Mobile employees and consumers will transform how they work, shop and live. As a result, their associated real estate requirements will change."
You can take that trend into an advantage and generate a significant income from creating a digital business model for your real estate investment.
Let's discuss how digital tool can boost your real estate business, get a free advice and estimation.