There are more than 200 software houses in Poland. They spring up like mushrooms. A few years ago I realized that these companies have a huge potential to acquire clients from all over the world. Young, bold people with some tech skills started conquering the global markets.
But it was not enough. There were some well-established companies like Divante who already knew how to proactively sell their software development services, and on the other hand, we had many small teams that still got the new clients mostly by recommendations.
What was missing, was a place where less experienced companies can learn from the ones who already know how to produce software and how to sell it using different channels and strategies.
Everything starts with a beer
In 2017 during the Infoshare event in Gdańsk I joined the afterparty where I met a few representatives of my competitors: Codibly, Yameo etc. We started a discussion about our companies and the whole industry. We asked a few interesting questions:
Do we have to compete? Isn't that cake (market) big enough for everyone?
What should we do together to use the synergy effect?
How can we avoid the same problems by sharing our experiences with each other?
Can we somehow standardize certain software development processes within our companies to make our lives easier and satisfy clients more?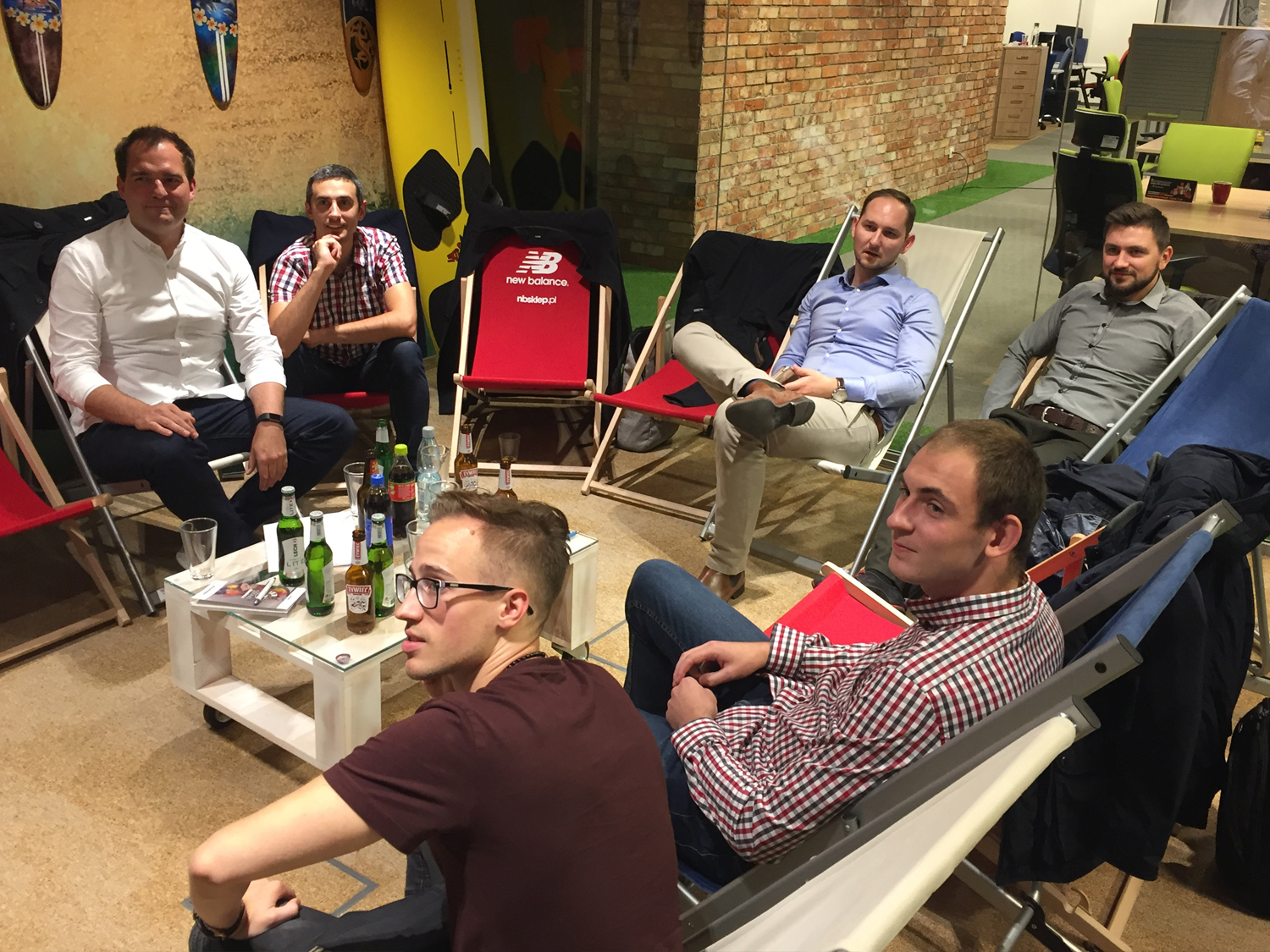 Then we came up with the idea to build a community and increase the value of services we are offering as well as companies we're partnering with. And we were very excited about it.
Simple things first
Together with Bartek, the CEO of Codibly, we created a Facebook group, and we started inviting C-Level executives from software development companies. We exchanged knowledge and encouraged people to share their opinions about many IT topics. Suddenly it became an exchange group, where people started sharing their resources or potential leads that they couldn't manage. It worked!
The level of trust was incredible. It surprised me how honestly people could talk about their business challenges, hard clients, different situations they were dealing with etc. To our surprise, the community had answers for most of the questions.
Let's face it
In September 2016 we had the first meeting in Warsaw with 5 companies. It was nice to discuss topics like recruitment, estimations and many other case studies we had. We thought that we should do more together in the future and invite more people.
Within a few months we hosted 2 webinars with over 40 companies actively attending. We discussed partnership opportunities, sales possibilities when going abroad and teal organizations – how to build a flat structure in the company, where people are independent and are ready to make their own individual decisions. At this point, we knew that our initiatives are bringing results and they are worth continuing.
Great minds think alike
We met again at the beginning of December in Krakow. There were over 30 representatives from software development companies. We spent 7 hours creating tools we can use to work together more effectively. We discussed the best practices everyone can use when running their software development company.
One of the interesting conclusions I heard from one of the CEO's was "You know what – when I look at you online, most of you look like Superstars, but when we speak in person, I have a feeling that we have the same challenges and I feel good about it – that we are honest and transparent".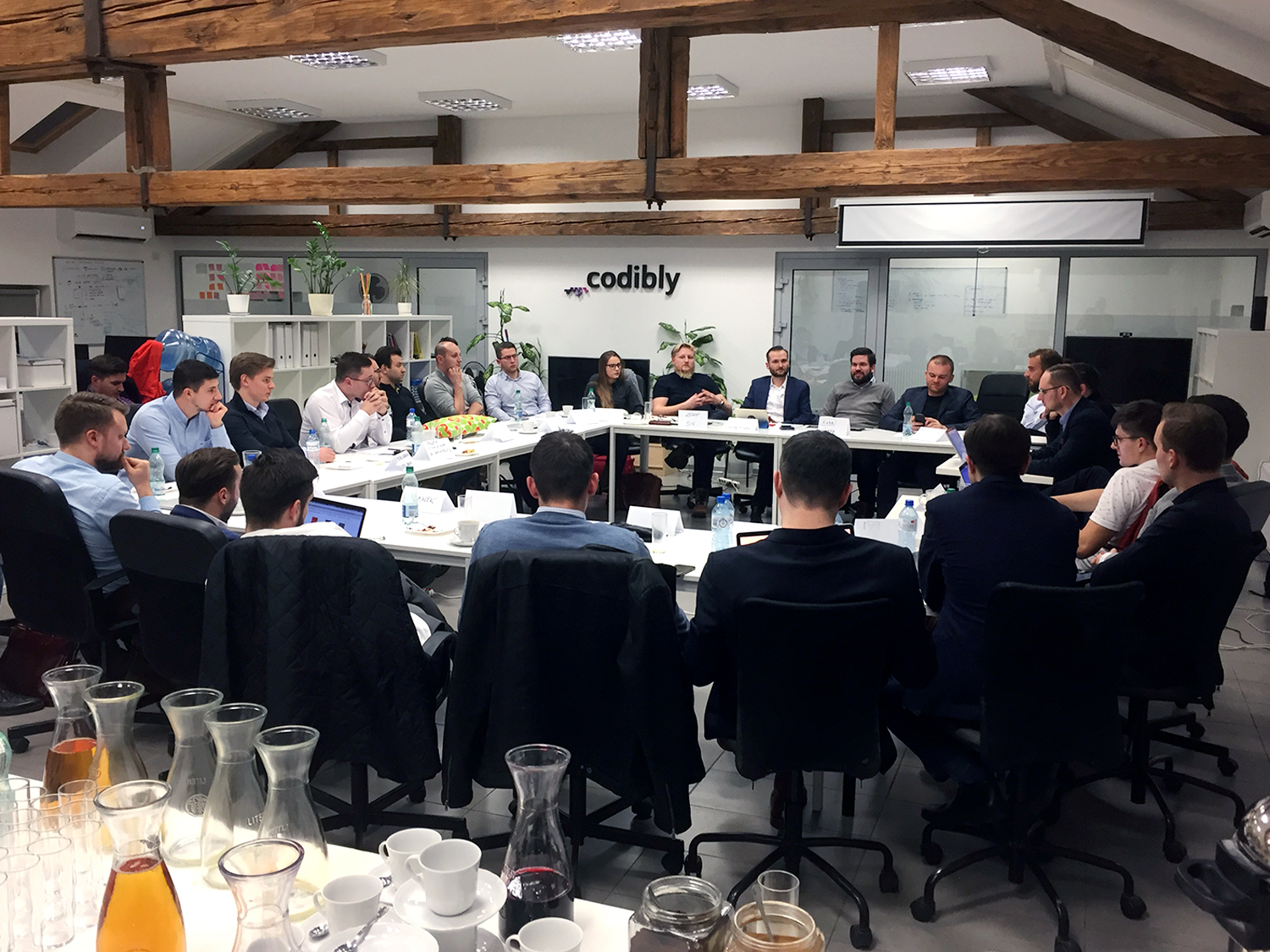 It was a very intense conversation and it was hard to keep the attention of all the attendees, but we managed. Codibly did a great job as a host! At the end, we collected feedback from people and had dinner with drinks. A lot of good vibes and energy!
The future of Software Houses Community in Poland
You might ask "Ok, but why do you do it? What do you want to achieve?" Let me share a few benefits that I can see.
Pros for Software Companies:
They exchange resources, so the developers waste less time;
They share leads/clients and they are able to help them, even if they don't have capacities within their own organization;
They share knowledge – they produce more efficient software products, avoid common mistakes and increase the quality of the production;
They get more clients faster and can grow, creating new jobs.
Advantages for the clients:
They are served according to standards and best practices approved by the best software houses in PL;
They are able to find good developers from the trusted partnership circle much faster;
They get access to people who are constantly improving their software development services, which allows them to successfully pick the right company as a development partner.
I believe that we can introduce many positive changes together and plenty of people in our industry will benefit from such cooperation. If we can establish a certain level of mutual trust, we might be able to grow together, even if we have the same or similar tech stack. At the moment it's quite an early-stage initiative, but stay tuned – there will be more coming in Q1 2018!
Do me a favor, please. Share this blogpost, tell the world that in Poland we have not only good manual workers but also creative thinkers and internet makers and that they are ready to conquer the world!