Are you considering a career transition into IT project management? The first step towards your career changeover is always the hardest. You must motivate yourself to make a leap of faith and then scrupulously strive for the goal.
At Desmart when we want to motivate each other we say "Get sheet done". It's a joking reference to the poster with "Get S**t Done" slogan that has been hanging in our office for several years. Maybe it is trivial, but it always works, as it was in my case.
I came into the role of Project Manager at Desmart from a completely different discipline and I had a lot to learn from day one. I know that the transformation period is not easy. You face many decisions and doubts. You start to move towards the change, but you're still wondering if you're ready for it. I was there.
I want to share some of the more practical aspects and my thoughts on my transition into project management, which I believe can be applied in any discipline.
Step 1. Get your courage up! Look around and change your path
In the summer five years ago, I was a key account manager in a training company.
It was a time when we entered a brand new program dedicated to sales managers. One of the topics we were teaching was courage. I realized then that was the time to find the courage and try to discover something completely new as a career path. One of them was the IT path.
The first time I heard about DeSmart was from my mom actually. She called me one day and said 'I met a great bunch of people. You should go there and talk to them'.
When it turned out that the company was looking for a Sales Manager, I had no doubt that I had to send my application. I successfully completed the recruitment process, joined the sales team, and my pal was Damian. It took just a few conversations to get my mind into a creative mode. I realized that IT is what I was looking for.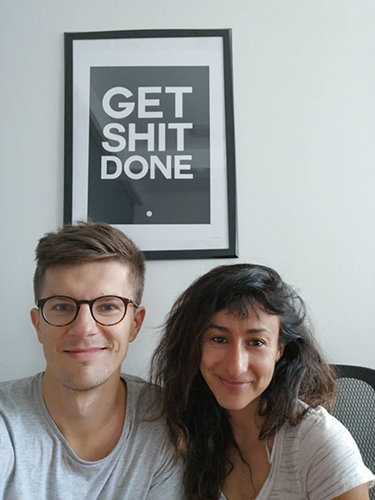 Step 2. Do not be afraid to look for your niche
Not always the career path you have been following must be chosen once and for all. Do not be afraid to change the course, even if at the beginning the road seems misty and you have many doubts.
For quite a long time I helped Damian with gaining new clients and bringing them on board. With time, I had the chance to work closely with the clients and developers and I became a person "in-between". I noticed that developers are more like artists with their unique skills, almost as scientists with an artistic nerve. I felt good in that role. I could focus on building strong relationships and bridges between both sides.
Because there was a lot of freedom in completing my work I suddenly saw the path beyond sales. That was my answer: running projects. However, my main task was still sales. I tried to cheat to myself, tried to forget, but the excitement of project management took over.
My doubts were similar to those in Jimmy Durante's song (one of my favorites), where he does not know whether to stay or go. But my decision was to take a bold step and go.
Step 3. Walk your talk!
Verbalize your dreams out loud to the best-trusted person. Do everything to turn your vision into a reality. When I told, or rather whispered to Damian about my plan of becoming a project manager, he answered: I thought you'd never decide. It's totally for you, girl. Just kill the dragon!
Working in the Agile Software House I wanted to dive deeper into frameworks which focus on the use of an empirical process that allows teams to respond to change in a rapid, efficient, and effective way. At Desmart we use Scrum as an agile approach to product development.
Scrum values (Courage, Focus, Commitment, Respect, and Openness) speak to me very well as I believe they are vital for a healthy company culture.
I decided to deepen my knowledge of Scrum not only practically but also theoretically, so I entered Scrum classes.
Step 4. Develop your hard and soft skills
Follow the leaders at your company that are willing to help you grow. Find an environment that can live up to your appetite for learning, and then learn as much as you can.
I credit the leadership for creating an environment where I could learn about what project management was. If you are a project manager, you have to be familiar with most of project management techniques. In my view, a good project manager needs 'soft' skills as well. By far, the most important skill you need is the ability to empathetically listen and observe. The good news is that you can learn and develop but it requires observation of your behavior as well as practice to make you a really skilled user. Asking for feedback allowed me to improve in areas which are important to me. Iwona (PM) always reminds me to think about people, to stay open and think outside "the sales box". Bartek (PM) has been doing it for ages. He can show a path when I get emotional. He helps me to see the clear view. Damian is always there for me to remind not to change my mind. thank you Guys!
Step 5.Challenge yourself as soon as possible
Take advantage of the Experience You Already Have. Don't wait for the perfect moment. Take the moment and make it perfect.
In paragliding, there is this one moment before the jump. You simply imagine you can fly and that was exactly what I did. Damian entrusted me with the first project and said: here you go, girl! That was the moment for me to face the reality. What did I have? The theory, sales, experience, and great support of the company who works in Scrum day by day.
I found myself in a brand new role; totally different between a Client (I was familiar with) but within the team. It was a lot about being there for them. I was trying to build trust within the team but also care about Clients' needs. I had to communicate the vision behind the product to everyone among the developers to make it all work.
And even though I was sharing the same essential vision to the Client side and the devteam, each group would need different details to do their work. Fulfilling everyone's needs plus my individual goals on the way to development wasn't a piece of cake.
What helped me a lot back then was non-violent communication method we strongly implement at Desmart.
At the end of the day, I had to find my own path. Sometimes I failed, the other days I felt like a winner. Correcting my deficiencies, listening carefully – this is what learned back then.
The Bottom-line
A career path in project management is rich in challenges and opportunities to learn and to contribute to the success of a product.
Remember – Project managers are neither made nor born. If you decide to take this path, you will have to put in a lot of effort. But it will pay off.