When DeSmart was founded, it was a pretty small group of people who were passionate about making software. Now we are a team with 14 years of experience in developing digital products. Every day we evolve our skills, share our knowledge, communicate with clients all over the world and learn new things. We love creating good products that people will like to use.
The idea behind rebranding
We started looking for companies to cooperate with and create even bigger, long-term products. In order to become oriented to this kind of clients, we had to upgrade our visual style to fit corporate business feel.
One more reason behind why we redesigned the website may seem obvious. The last version of our website was designed almost 4 years ago and as we all know - the wheels of progress never stop turning. (Here you can find the case study of our previous website). It took us a few months of hard work and in that time we had a dozen of meetings, long conversations with our clients, everyday stand-ups to share our success and much more. We've changed not only the visual representation of our company. We've also refreshed the logotype with a simpler, more consistent typography.
The logo
Like in most aspects of online marketing, logotype means a lot in your company's life. It should be redesigned over time in order to give a brand refreshed and up-to-date look. These changes, even if they are subtle, are necessary in order to stay relevant and keep your company's identity fresh in the eyes of consumers. We have grown as a company thanks to new opportunities and strengths. That means we may not be the same business, as when we started. As a result, logo no longer accurately reflects what we do and who we do it for.
Let's look at our previous logo.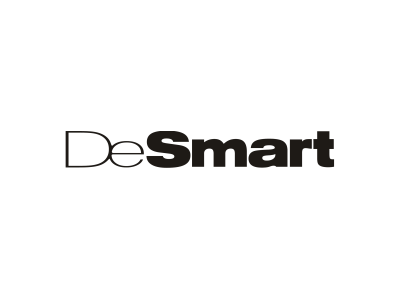 It was great when it was first designed, but now looks outdated. What was once modern and compelling, can lose its power over time. When people see a logo that looks outdated, they perceive an organization as out-of-touch with newest best practices. As the digital world has become such a large part of our lives, we have seen companies go through rebranding to adapt their logos and to be more suitable for online marketing.
Redesigning a logo means redesigning a brand. And that's not necessarily a bad thing. A logo update allows your business to explore new opportunities and present more accurately what the company stands for. The logo is the very core of your business, and redesigning it allows you to maintain and modernize your brand.
Let's ask the users!
At the end of design process we had 9 different variations of a logo. This number was later reduced on a team meeting, where we voted for the best one. We did not have a definitive winner, so our business developer came with an idea to make a poll on Facebook to share our upcoming changes with people! Below you can see 4 options we were choosing from. Thanks to the community's responses and feedback, we finally got our winner which you can see on our web page.
We gathered some feedback this way and used Facebook to inform users about the upcoming changes. We are aware of the importance of UX research and we really wanted to base our decisions on insights from real users. When it comes to the company's website, it becomes even more difficult to stay objective. The employees are emotionally attached to the company and forget to put themselves in the roles of website's Personas. Rather than defining problems and creating hypotheses that should be verified by UX research, we moved straight to finding solutions. That is when we decided that it's high time to give the voice to the users again!
Talking and Testing
It is always better to base your decisions on the insights from real users, rather than rely only on your own assumptions. UX research doesn't have to ruin your budget or take lots of time. We decided to run interviews with our current and previous clients and partners. We created a 30 minutes interview scenario that included questions regarding their professional background, responsibilities, goals and motivations, frustrations and also their impressions about our current website. Skype worked pretty well in our case, so after a few calls we gathered lots of useful insights that prepared the ground for the design process.
Technology behind it
Along with the new look and feel, we also wanted improvement tech-wise. Our former website was built with Laravel and served us well for over two years. When designing the new one, we had a feeling that it is time to shift towards node.js-based solution, taking performance and flexibility as the most important factors. Also, switching completely to ES6 Javascript with all the latest features for writing both client and server-side logic has significantly sped up the development process.
This is just the beginning
Web redesign is a complicated matter and even if you do many things right, there still might be some things you need to work on. The creation of the new identity required setting goals, collective work, and diligence of DeTeam. We treated our website redesign as we do each project for the client: a team was created, product owner was chosen and we worked using scrum method. Everyone who has been through this process also knows that once created, the website requires continuous improvement. We are grateful to our clients who have helped us during the redesign process. The feedback we received was truthful and extremely beneficial.
Below you can see some screens from the previous homepage and the current one: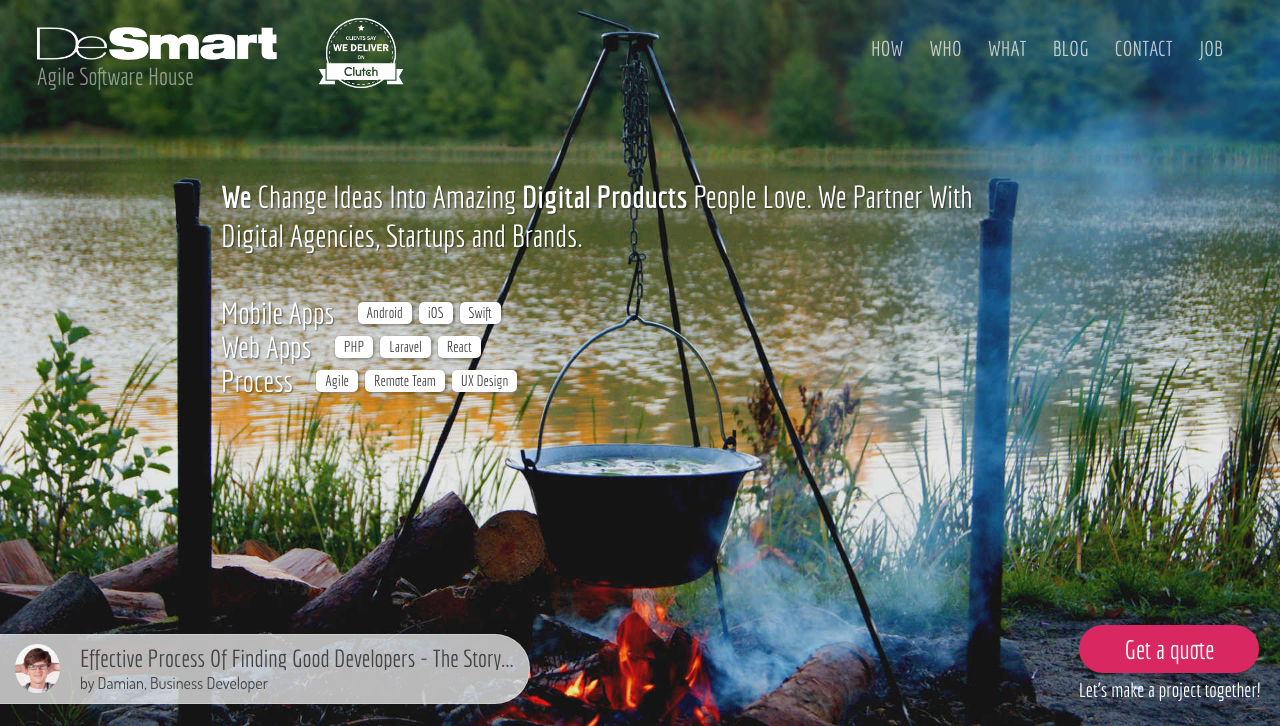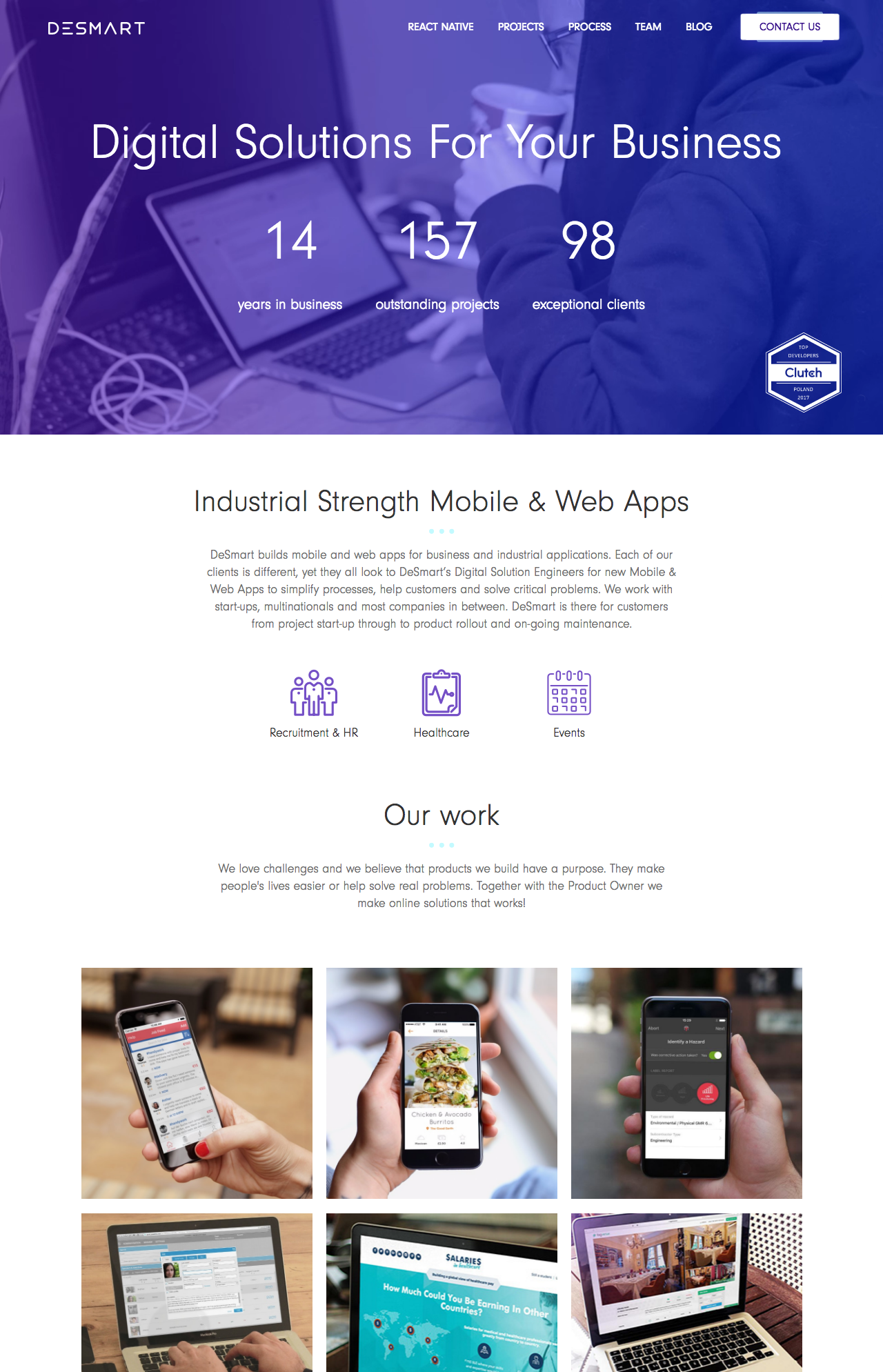 This is how we redesigned our process description page: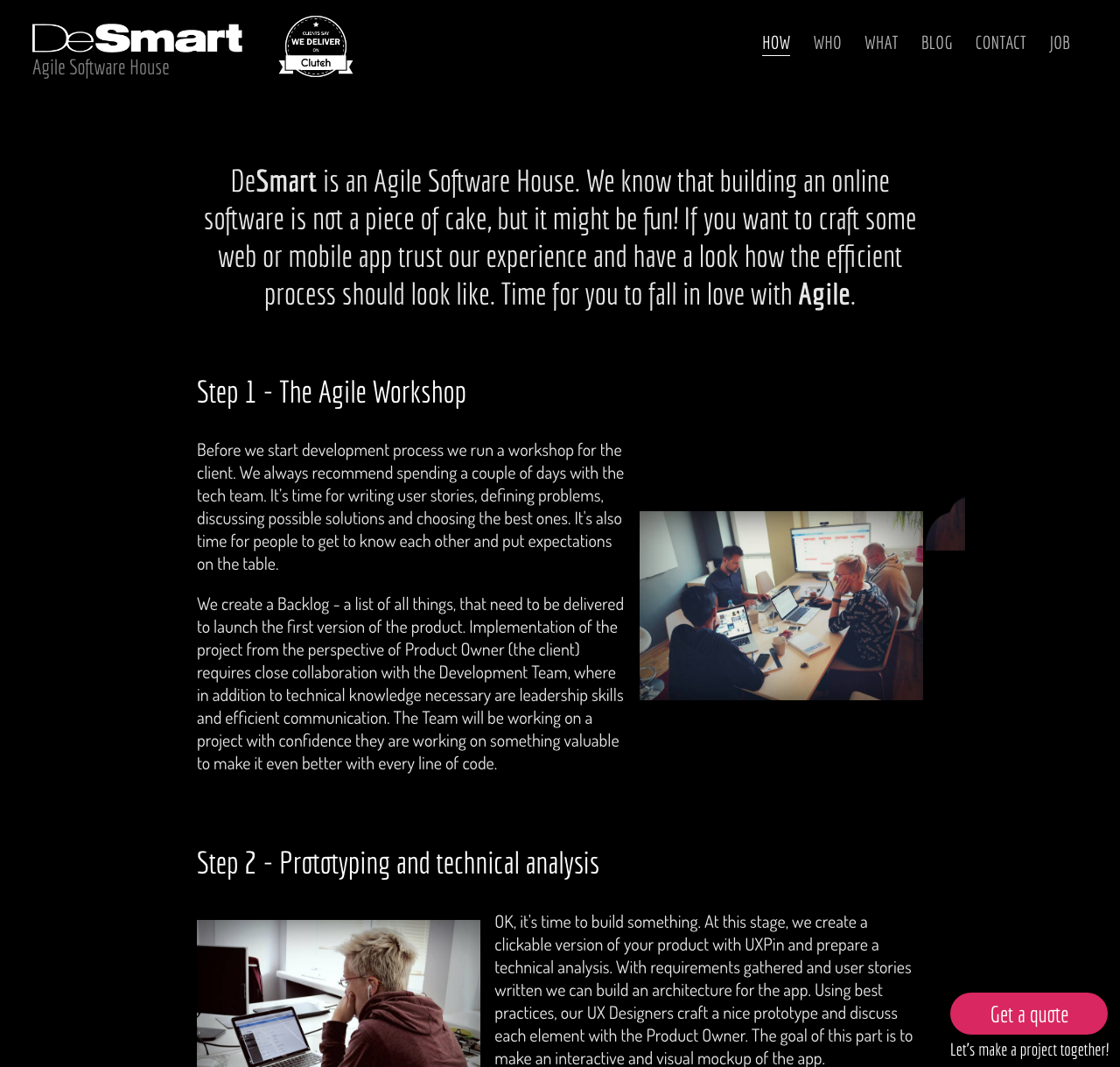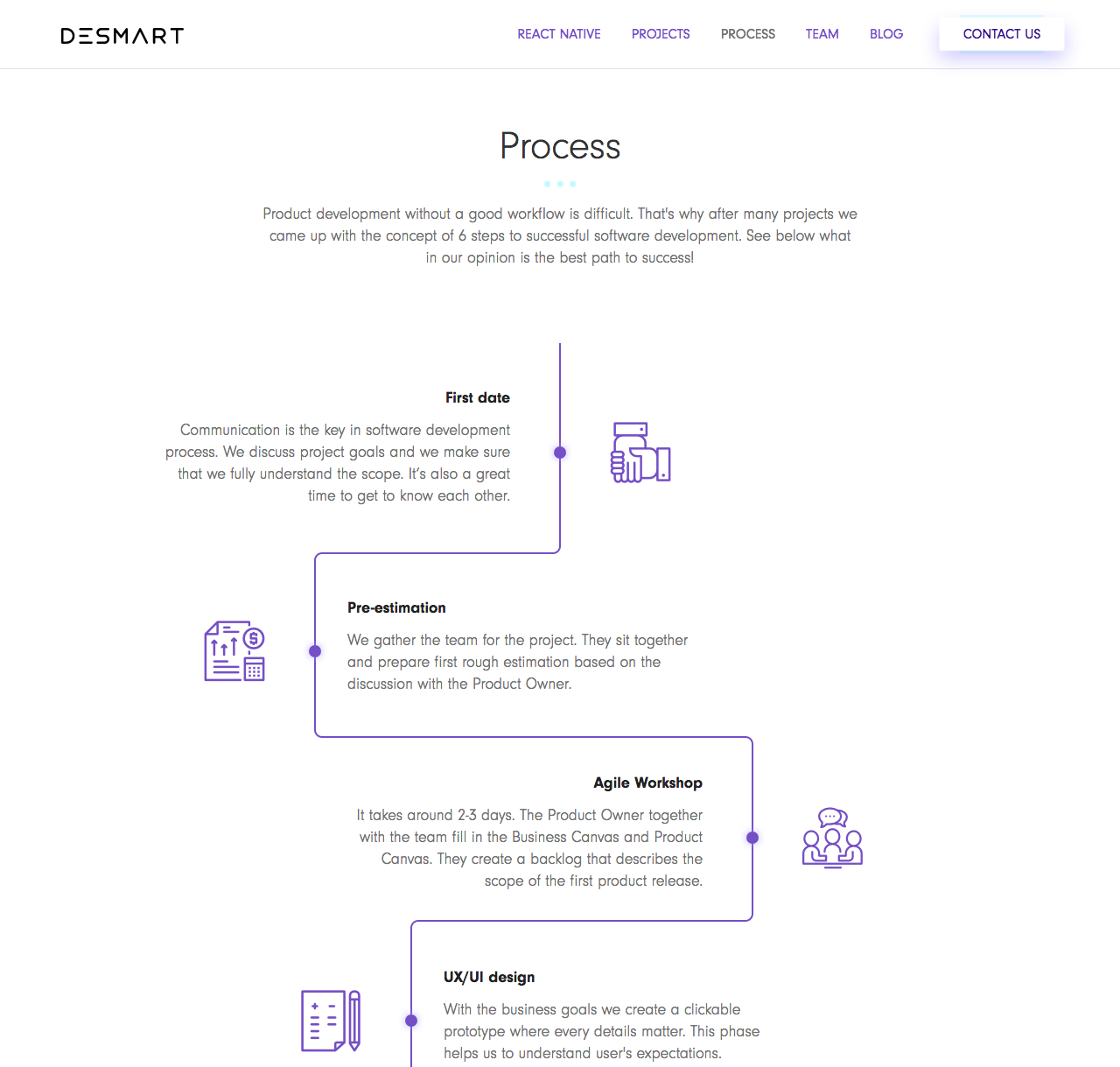 ---