Why invest in values ​​at all? From the perspective of the whole organization, the profit from this investment is the certainty that if we are guided by our values ​​in our work, we will not have to worry whether the problems our clients come to us with will be solved.
By investing in authenticity, which results from value, we build not only personal healthy self-confidence, but also the strength of the organization. And this is worth the effort.
I believe that every person is naturally eager to be involved. As people, we strive for a relationship, it is natural that we go out with the initiative to do each other favors.Thanks to this, we feel necessary, important and valuable. So, if making commitments is our natural course of action, why is it sometimes so difficult to get involved and commit to work?
I am putting forward the bold hypothesis that knowingly investing in the promotion of values ​​gives a chance to bring companies a profit that cannot be bought in any way. If we are based in values, behaviors flow from within us, not from a sense of duty.
What values, then, should we choose? This is where a framework called Scrum appears.
Values in Scrum
In 2017, Scrum Guide the basic source of information on how to apply Scrum, had a paragraph added on the values of commitment, courage, focus, openness and respect.
Its creators write that it is these, together with the 3 pillars - transparency, inspection and adaptation, that are the foundation of all activities that allow us to be agile, which can be understood as a competitive in business.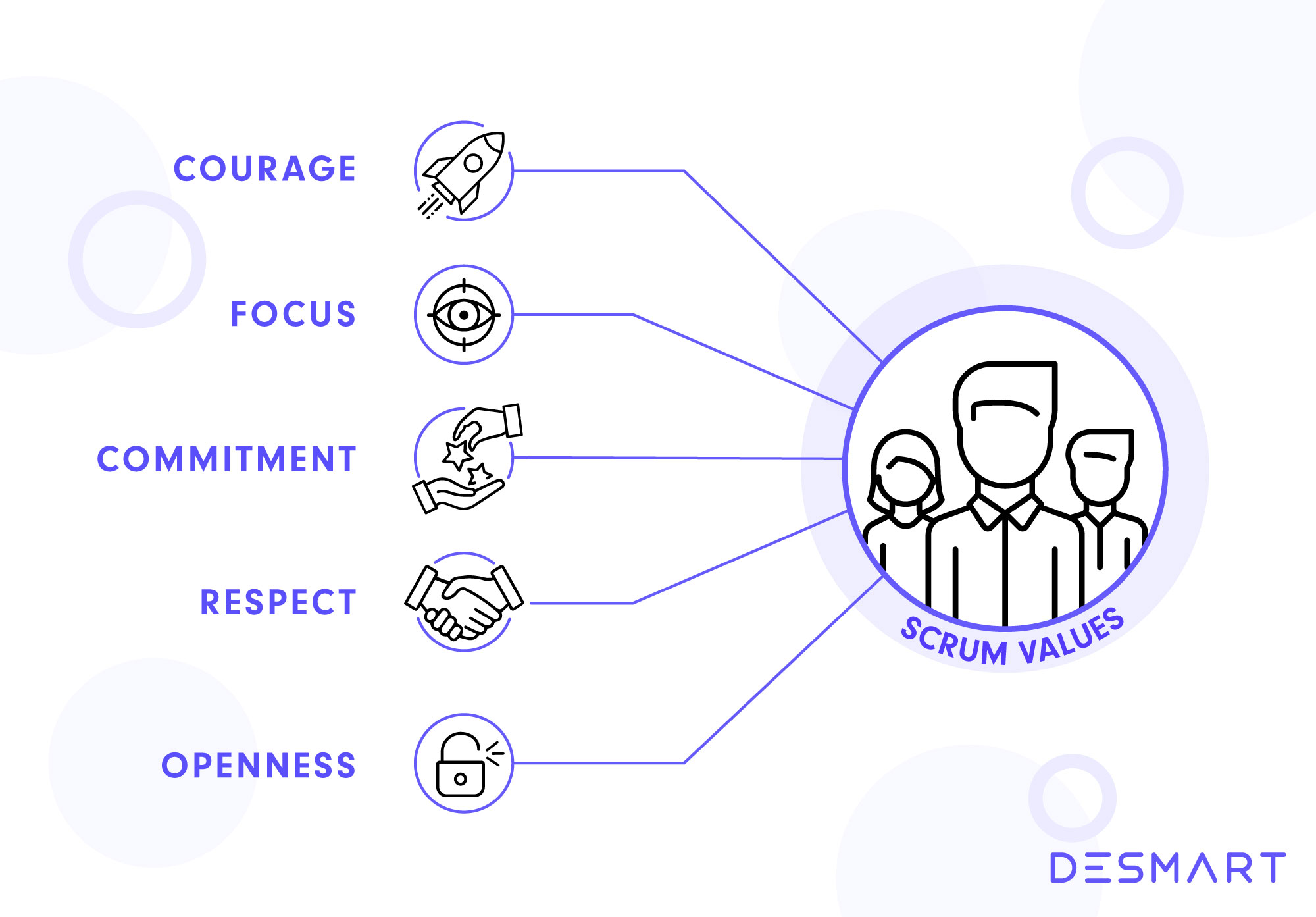 So, what can you say about values? Let's talk about commitment.
#Commitment
In Scrum Guide, we can find the following description of commitment: "People personally commit to achieving the goals of the Scrum Team." That's all. And that's it. But how to understand the significance of the commitment?
Commitment in the context of teamwork is a situation in which we declare that we can achieve a given business goal. We adopt a strategy in the form of a plan, but during the sprint we are surprised by unforeseen obstacles, e.g. a team tester has an unexpected holiday.
A committed team is one that will ensure that the goal you have agreed on is achieved, even if it means changing the strategy - for example, testing the task by a person other than the tester.
Let's look at another example. The scrum team commits that in the newly emerging online store, you will be able to pay for the goods in 2 weeks. They plan to combine the store's website with the bank's website so that the order can be completed with one click. In the course of work, it turns out that this connection will be possible only in a month, because banking procedures require authentication.
What does a committed team do in this situation, when they promised that you will be able to pay for shopping?
Despite the lack of possibilities to implement the plan, they will suggest an alternative solution - for example, they will place the account number on the store website, through which the customer will be able to pay for his goods, simply by copying the number. The plan is different than expected, but the goal is achieved.
Summing up, committed teams, which, we assume, the teams working in Scrum are, take personal responsibility for the effects of their work. This means that they make every effort to overcome the adversities that appear on the road, looking for solutions in the conditions in which they have to work.
#"Make it good" - Clear vision needed
To consciously make a commitment, we need a clear vision and purpose; we need to know where we are going. It is the Product Owner's task to ensure direction. What if we as a team commit ourselves to an unclear goal, or even worse - the decision about what we will do at a given time is not ours?
For a deeper understanding of this situation, I will use an example, sometimes encountered in the reality of Scrum Masters, especially in large organizations.
Imagine that Product Owner presents a product development plan, for example the aforementioned online store. One of the functionalities to be delivered in the product is a chat channel between the customer and the seller.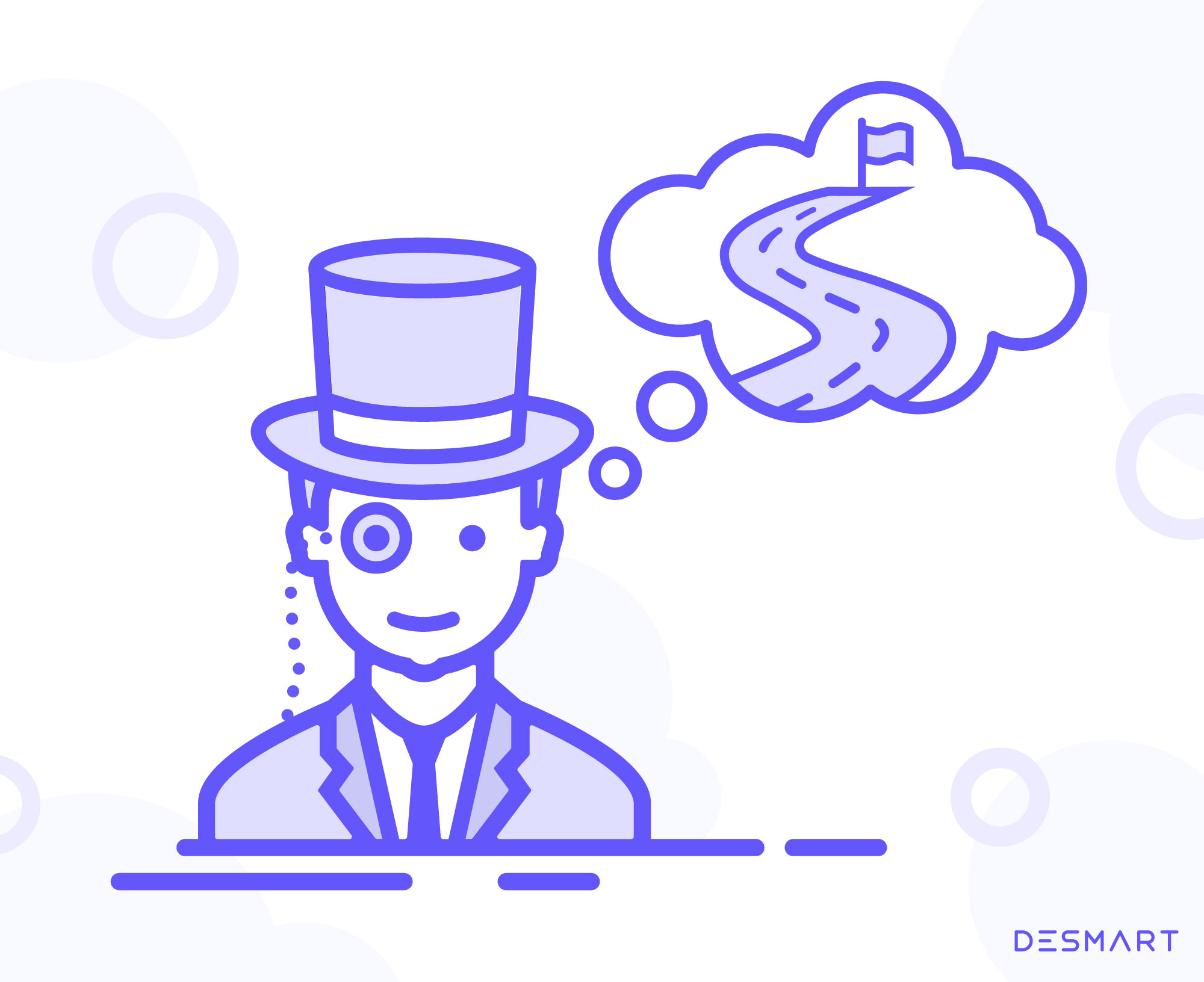 The Product Owner defines the criteria for accepting the task as "acting as on the XYZ website". At the end of the sprint, it turns out that the functionality on which the client was most interested in the chat task was to create conversational groups, while the team focused in the sprint on the display of notifications, and the creation of conversational groups was missing.
We could multiply the scenarios, but the main questions are: is it possible to get commitment when we lack a goal or have no influence on it? Personally, I would like to be counted out of such a situation.
Fear – the shortest path to lack of commitment
The atmosphere of the above examples could be further escalated, adding suggestions related to termination of employment or reduction of bonuses if we do not perform the entrusted task. As it turns out, this is one of the worst scenarios, not only because it is mobbing, but also because creativity and teamwork simply do not work when we feel insecure.
Fear is a short-term driving force. We are rather focused on performing the entrusted task, in its scope, even if we see that it is possible to do otherwise, better, because "why stand out." As a result, we have completed tasks, but still unresolved problems with which clients come to us. We can then hear the famous programmers' joke, "Hmm, It Works on my machine". But it still doesn't working for the client.
So what is the way to make people want to make commitments?
"Take it to the team" – self-organizing teams
In the book "Drive" Dan Pink writes that one of the three factors that determine our internal motivation, so maybe our willingness to commit as well is autonomy, or the ability to influence decisions.
Inviting the team to solve the problem together and providing support for the leader will make our team want to get involved. Support turns out to be very important because we have different levels of competence in teams, so if even very willing to commit, but a budding employee is left alone, and the task surpasses their strength - we can waste their spark.
So, if you see in your environment teams that do not take initiative, do not want to make commitments - perhaps it is the influence and support, or rather their absence that is the problem.
It is worth remembering that the responsibility of a contemporary Leader or Product Owner is not to organize the work of a team, but to present the problem as clearly as possible, show the motivation behind the given issue and ensure conditions that allow the team to solve the problem. Then there is a chance that the problem which we encounter will be solved.
Remember, however, that a sense of influence is a condition which is necessary, but not sufficient on its own.
Permission to make mistakes
Another element is providing an environment that allows you to make mistakes. This approach ensures continuous development cycle because a mistake is knowledge how not to do something. So, what could be more effective in the learning process than feedback about the effects of our work?
In Scrum, retrospective is one of the moments when we have the chance to give and receive feedback. Remember to be calm, tolerant and patient, because the learning process is not easy, and it requires a lot of humbleness and willingness.
However, the independence of people and the ability to make commitments is an invaluable gain. Therefore, in order to raise the willingness to make commitments in your team, start by giving feedback, preferably positive. Also, invite them to make decisions, small ones at the beginning. This exercise is not only for your people, but above all for you - giving responsibility is usually more difficult than taking it :)
Take care of your work comfort
Although this article will be largely useful for leaders, I would like to direct the last words to everyone, regardless of the role they have. We work an average of 8 hours a day, which makes up half of the time when we are awake during the day.
In my opinion, it is too much time to give to a job that is not satisfying, or developing. Therefore, if you want to work in an environment where work is fun, where commitment is natural, you must take care of it... and make it fun! And this is not only the work of the Leaders, but everyone who is part of the organization.
That's why in Desmart we have been focusing for years on solutions that make everyone feel part of the organization and naturally take on commitment. It is not only Scrum that comes to our aid, but also the basic, natural need for time spent at work to give a sense of fulfillment.
So, if you want everyone in your company to make a commitment - take them yourself, change something and see what happens. It's not easy, but the satisfaction of solving a problem is guaranteed :)
Reference:
While there are many reasons for the lack of commitment, I would like to refer you to the book "The Five Dysfunctions of a Team" by Patrick Lencioni in search of both reasons and solutions.
I also recommend reading 'Drive: The Surprising Truth About What Motivates Us' to discover a wider perspective of issues related to motivation.
To learn more about the whole theory of scrum, I invite you to read 'Scrum Guide' - a short on-line book which is a basic manual about scrum framework.
---